As a service provider, we have more than 50 years of experience in the processing of stainless steel sheets and have earned a good reputation in the industry based on our high quality awareness. An essential part of our service catalog is also the area of precision grinding. Since many components must be designed within the tightest tolerances due to their subsequent intended use, special machining techniques such as precision grinding are required to achieve satisfactory results. For this reason, we also offer so-called wet grinding in the area of stainless steel grinding.
How we grind stainless steel with the tightest thickness tolerances
Based on our three high-performance systems for precision grinding, we can process stainless steel sheets and blanks with dimensions of 2,000 x 1,000 x 35 to the tightest thickness tolerances at our company headquarters in Netphen-Deuz (Siegen-Wittgenstein district). We achieve very high accuracies in the wet grinding process. In addition to flawless surfaces, our main focus in precision grinding is on the tightest thickness tolerances, flatness and parallelism. The work using wet grinding technology is carried out on high-performance CNC-controlled peripheral grinding machines that produce a directional grinding pattern.
Wet grinding – ensure the best possible quality
In our company, stainless steel is ground under the strictest quality criteria – supported by state-of-the-art machine technology. We perform precision grinding in line with our customers' requirements and under constant supervision – regardless of whether this is for individual parts, prototypes or series production. The aim of our wet grinding activities is to guarantee the best possible quality. This process achieves flawless surfaces as well as the strictest tolerances with regard to flatness and parallelism.
Precision grinding – achievable values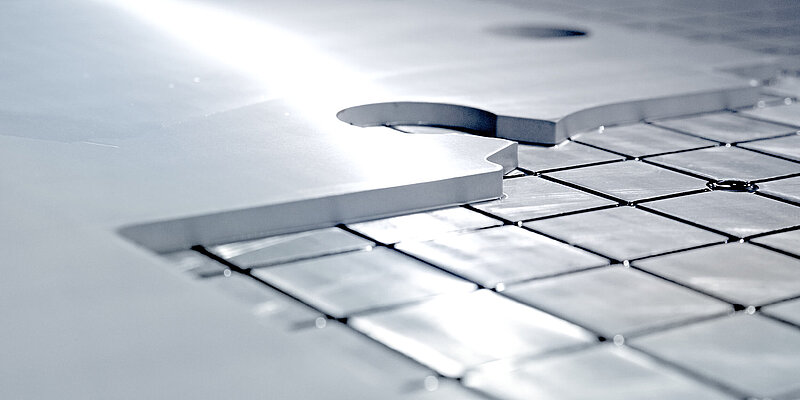 Grinding stainless steel continues to be a challenge, even once you have gained our level of experience. Precision, accuracy and the pursuit of the highest quality are important requirements when aiming to achieve premium wet grinding results. For example, highly-qualified employees and powerful machinery enable us to achieve a flatness of 0.2 millimetres on the contour. For instance, we are able to achieve a roughness value of 1 µm, while our thickness tolerances range in the dimensions of ± 0.05 millimetres in stainless steel grinding. At the same time, we achieve a value of 0.1 millimetres for the parallelism of the two surfaces over a length of 0.5 m.